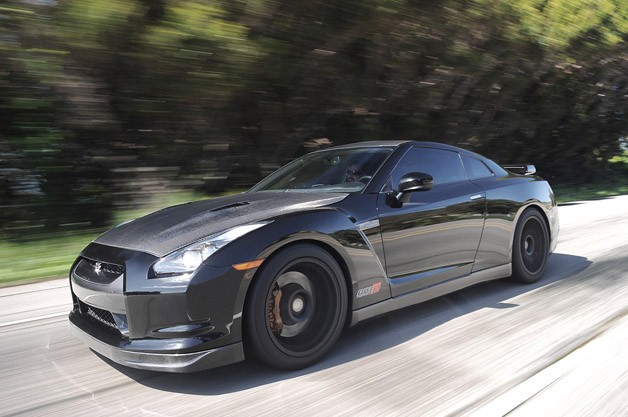 For some  jammy bast*rds people, owning a "stock" Nissan GT-R just doesn't cut the mustard. Even with a trouser bulging 545BHP on tap there's always room for more. If you are one of these lucky people then maybe you should speak to the guys at AMS Performance. They can turn Godzilla into world's quickest Street-Legal Production ride or "Godzilla on Crack".
For the cost of a donor GT-R and $99k US AMS peformance will hand you back an AMS Alpha 12 GT-R in return. For those wondering, here's what you get for your cash. The stock GT-R 3.8-liter VR38DETT V6 block is bored out and transformed into a race tuned and blueprinted 4.0-liter monster. The engine is reinforced and fitted with an AMS Alpha CNC race ported cylinder head together with AMS custom camshafts, injectors and AMS MAP sensors. The twin stock turbochargers are tossed aside in favor of an AMS Alpha 12 Turbo Kit while an AMS intercooler is added to keep charge temperatures under control. The entire exhaust also gets the AMS treatment from front to back to keep those hot gases following. Lastly the stock gearbox is overhauled and upgraded with the differential receiving a  high capacity oil cooler.

The result of all this work is an insane 1,500 horsepower and 1,050 pound-feet of torque when using the race fuel. That's enough power to defy the laws of physics and propel Godzilla from a standstill to 60mph in an insane 2.4 seconds.  On the track the Alpha 12 continues to produce EPIC results with its party piece reserved for the quarter mile.  It managed to dispose of the 1,320 feet in just 8.975 seconds at 169.49 miles per hour, a result worthy of the title of the world's quickest Street-Legal Production automobile.
Check out the video below of the Alpha 12 strutting its stuff. It's truly and epic car… so start saving! You might also want to head on over to the AMS Performance website for even more information and video on some of their ungodly creations.