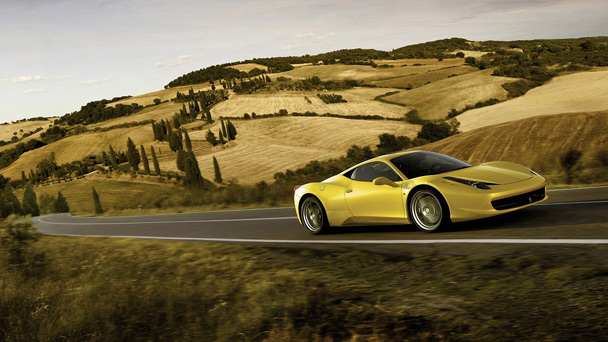 Unless your circle of friends includes overpaid footballers, celebrities or tweed loving land owners, getting your hands on an exotic super cars is pretty tricky unless you fancy a stretch at the expense of Her Majesty. Hertz car rentals has helped fill the void by offering an ever expanding range of supercar rentals to mere mortals like me and you.
Hertz currently offers some truly breathtaking vehicles for hire but expect to part with some significant coin to join the supercar elite.  Fancy a Ferrari 458 Italia for the day? 0-60 in 3.4 seconds, a top speed of 202MPH with 570 ponies powering the rear axle[1]? No problem! Prices start FROM just £826.50 per day according to their website. If you are on a budget, more affordable models include the equally epic Audi R8 Spyder. At only £450.30 per day with a tyre shredding 420 horses available from it's 4.2 litre V8 power plant, its an absolute bargain.
[ad]
Hertz UK has just announced that the Lamborghini LP570-4 Performante Edizione Tecnica and Range Rover Vogue Autobiography will be added to its luxury fleets with many other tasty models added to Hertz outlets around Europe.
Group President of the Hertz Corporation, Michel Taride,  said: "The expansion of our supercar rentals in Europe is fantastic news for customers worldwide who want a taste of the millionaire lifestyle. Our supercars are being driven out on the open road by true car enthusiasts, people wanting to land an important business deal, and those desiring an unforgettable experience of a lifetime. Once again, Hertz is demonstrating its flair for providing highly rewarding customer experiences and a wide choice of offerings to suit every occasion."
There are a range of extras available including multi-driver policies, inclusive insurance and vehicle delivery to a location of your choice but be prepared to read the small print. Rental companies are renowned for astronomical insurance excesses for even the most mundane marques, so make sure you take car not to prang your newly "borrowed" six digit supercar. The Hertz website terms state that the insurance excess for the Ferrari 458 Italia ranges from between £2000 to £5000!
With costs aside, getting behind the wheel of some awe inspiring metal is a reality. If like me, its your dream to get behind the wheel of a car sporting a prancing horse of the bonnet it might be time to whip out the visa and take the plunge.
Resources [1] http://en.wikipedia.org/wiki/Ferrari_458_Italia