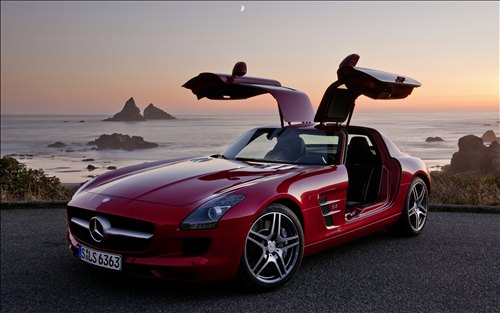 Mercedes-Benz has recorded its best-ever quarterly sales figures in the United Kingdom. The German automaker sold 25,348 cars in the first quarter of 2012, which represents a rise of 12.7%. Mercedes-Benz controls now 4.5% of the British car market.
In March alone, 16,166 new Mercedes were taken to the road making it the most successful month ever for the manufacturer. The March sales figures represent an increase of 10.2% over the same month in 2011.
Quarterly highlights included strong performances for the C-Class Coupé with 2571 new registrations; the SLK Roadster with 1597 new cars; E-Class Saloon with 3543 new cars, an increase of 8.1%, and the new B-Class registered 1190 new cars. AMG sales saw an increase of 57%.
"The achievement of our entire UK team is remarkable – this isn't just a record first quarter for passenger cars; it's the best-ever quarterly result in our history. This is a testament to the fact that UK customers, whether private purchases, or fleets buying for businesses, are deciding that a new Mercedes-Benz is the right choice for them," said Marcus Breitschwerdt, president and chief executive officer for Mercedes-Benz UK.
The German carmaker has seen record sales all over the world. Since the start of the year, a total of 313,902 vehicles were sold, an increase of 11.9%. In March alone when 131,334 unites were delivered to customers. Mercedes-Benz has never sold as many vehicles in a month before.
"Following up on our record sales last year, we are also off to a highly successful start in 2012. To date, we have recorded a new sales record in every month of this year and with 313,902 Mercedes-Benz passenger cars sold, we have set a new high for the first quarter. March was even the strongest month of the company's history," added Dr. Joachim Schmidt, Executive Vice President Sales and Marketing at Mercedes-Benz.
In the United States, Mercedes Benz sold 61,513 units in the first quarter of 2012, followed closely by Germany with 56,552 cars. In China, 51,328 customers purchased a new Mercedes-Benz vehicle from January to March.
The premium car manufacturer has registered record sales across its entire model range. The C-Class segment saw a strong increase of 27.0% to 99,660 units. The S-Class sedan also enjoys high demand with 21,507 cars being sold, an increase of 27.5%. The new B-Class sold 35,000 times since its market launch last November. Sales of the A-Class increased by 17% to 20,772 units and Mercedes-Benz SUVs saw 59,116 vehicles being sold.
Statistically, the biggest increase in sales delivered the compact smart fortwo in China, which saw an increase of 105.1%. The number of smarts delivered since January has doubled to 4,795 units. In total, 26,974 smart cars were sold on the global market.