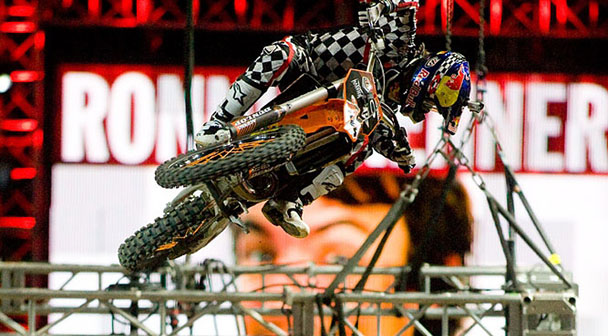 This years X Games in LA has seen some amazing spectacles, the Hot Wheels Double Dare Loop was a sight to behold but the record breaking jump of 47 feet on a motorbike was something else.
The six man line up in the Moto X Step up event started at 32 feet, with the field cut down quickly to only 2 riders who managed to clear over 40 feet. The previous record of 34 feet was destroyed as Ronnie Renner claimed gold with an epic 47 feet . Renner, a motocross veteran is no stranger to shattering records. In 2008 he soared nearly six stories (59 feet 2 inches) off a quarterpipe, setting another world record.
The runner up with a mere 46ft, Matt Buyten said, "The impact becomes a real big issue anything over 35 feet, I've got a ripping headache right now from landing so hard. We're falling four stories out of the sky, and that's not talking it up at all. That's being nice. It's pretty gnarly."
The impact of the landings left many of the riders visibly distressed and in pain due to the extreme forces they endure on the landing. Just don't try this at home folks, I doubt your bennets policy covers a motorbike free fall from over 47ft in the air!
This years X Games have been the most successful and popular yet with events ranging from Moto X to skate boarding and Rally X. The X Games are an annual event organised and run by ESPN and have been held since 1995 attracting fans, competitors and sponsors from around the world.
Click "Read more" to see this video and more from this weeks X Games Moto X action.