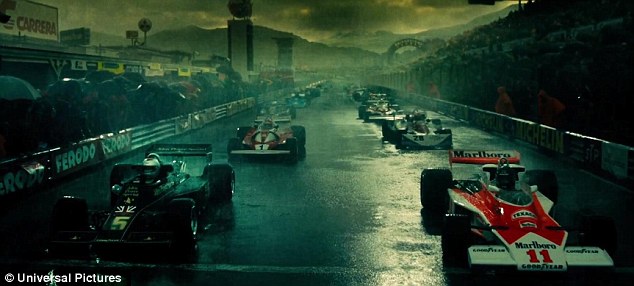 For those of you out there who enjoy F1 as much as we do, you'll be very interested in the latest motor sport movie that will be gracing our screen in September… Rush.
The movie, directed by acclaimed director Ron Howard is a biography of the Austrian Formula 1 champion driver Niki Lauda and the 1976 crash that almost claimed his life.
The movie brings us back to what many would call the golden days of F1, before the days of computers, driver aids and over the stop safety regulations.
Read more to check out the trailer, I think you'll agree it looks rather good indeed.
Here's the official line from the movie makers:
Two-time Academy Award® winner Ron Howard (A Beautiful Mind, Frost/Nixon), teams once again with fellow two-time Academy Award® nominee, writer Peter Morgan (Frost/Nixon, The Queen), on Rush, a spectacular big-screen re-creation of the merciless 1970s rivalry between James Hunt and Niki Lauda. 
The epic action-drama stars Chris Hemsworth (The Avengers) as the charismatic Englishman James Hunt and Daniel Brühl (Inglourious Basterds) as the disciplined Austrian perfectionist Niki Lauda, whose clashes on the Grand Prix racetrack epitomized the contrast between these two extraordinary characters, a distinction reflected in their private lives. 
Set against the sexy and glamorous golden age of Formula 1 racing, Rush portrays the exhilarating true story of two of the greatest rivals the world has ever witnessed—handsome English playboy Hunt and his methodical, brilliant opponent, Lauda. Taking us into their personal lives on and off the track, Rush follows the two drivers as they push themselves to the breaking point of physical and psychological endurance, where there is no shortcut to victory and no margin for error. If you make one mistake, you die. 
Also starring Olivia Wilde (TRON: Legacy) and Alexandra Maria Lara (The Reader), Rush is produced by Andrew Eaton (A Mighty Heart), Howard, Academy Award® winner Brian Grazer (Apollo 13, A Beautiful Mind), Eric Fellner (Senna, Tinker Tailor Soldier Spy), Morgan and Brian Oliver (Black Swan) and executive produced by Cross Creek Pictures, Exclusive Media, Todd Hallowell and Tim Bevan.