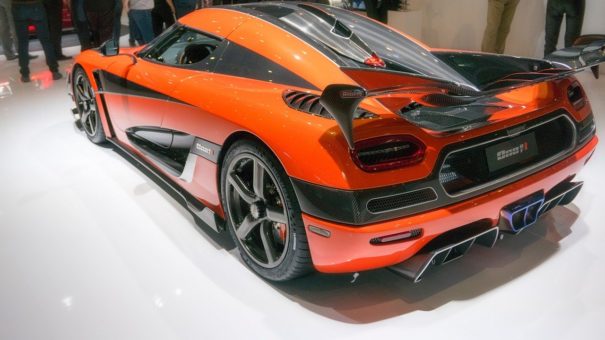 You know that we're living in strange times when supercar manufacturers attempt to make models that are family-friendly. But that is precisely what Swedish automaker Koenigsegg is trying to do. 
For those of you who don't know, Koenigsegg is a Scandinavian brand with an unpronounceable name that used to make two-seater sports cars. But such is the demand from the super-rich to be able to do the school
-run in style, that they have made a $2 million monster with seats in the back and a trunk for satchels. 
A Genuine School-Run Supercar
To look at, this new car is no Quattroporte. It is not a saloon car made by Audi or VW with a Koenigsegg badge on it. The original Swedish saloon looks like any other car from the company's range – just a heck of a lot bigger. 
The vehicle, called the Gemara is, according to the company's founder, the "perfect vehicle" for family days out. It features the massive side intakes and aggressive engine cooling of the Agera and Agera R. Yet, it will quite happily cruise along country roads and around town. It is a fundamentally different beast from the company's prior models. High performance used to belong to two-seaters but not anymore if the company's marketing is to be believed. 
So how many of these puppies are Koenigsegg going to produce? And when can you expect them to show up at your local used car dealer?
Only 300 Will Be Made
Sorry to any of you who had dreams of driving in one of these in twenty years, but Koenigsegg says that it is only going to make 300. Fortune 500 CEOs, footballers and pop singers will probably be the only people who will be cruising around in these any time soon. But given the fact that this car can comfortably seat four people, it will surely become a cult classic. For all intents and purposes, it looks just as aggressive as a Lamborghini Aventador. It just has a soft, family-friendly underbelly. 
The performance numbers coming out of Koenigsegg are, frankly, ridiculous. The company says that the car will produce 1,700 BHP – or 700 more than the original Bugatti Veyron, and will do 0 to 62 mph in an Earth-shattering 1.9 seconds. 
Top speed? The manufacturer says they expect it to ramp all the way up to 248 mph, but that's probably capped. The car can probably go faster. 
You get a bunch of mod-cons on the inside, including air conditioning, an 11-speaker radio and plenty of cup holders for your morning coffees. There's also a screen with entertainment options in the back. 
Of course, Koenigsegg knows that the way to produce a monster vehicle like this with insane performance numbers is to combine electric and combustion drivetrains, and that's exactly what they've done. Make no mistake – this is a hybrid car in the guise of the Mclaren F1. But it is also totally uncompromising. You can drive it like a Passat or a Huracan. The choice is yours.