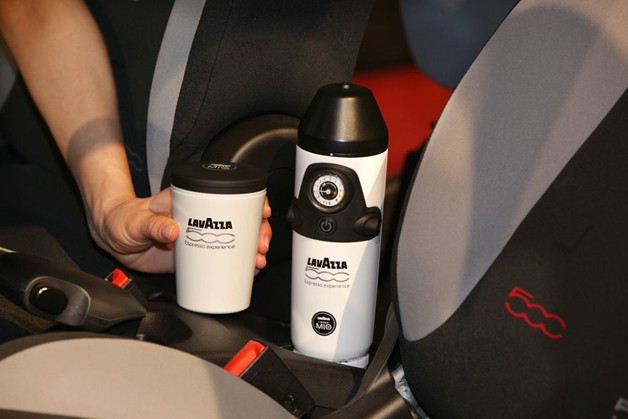 There is an idiom, in Italy, used when one is presented with an exceptionally efficient or functional object. Face to a multi-gadget phone, or, say, a wristwatch with numerous applications, an Italian may answer, "Fa anche il caffé?" ("Does it make coffee too?").
Italian car manufacturers Fiat may have taken this bit of popular laconic humour a little too literally, as they prepare themselves to release the next model in the legendary 500 line of cars, the 500L. The heir to the great 1930s Topolino will come with five seats, three available engines, and an inevitable dotage of glamour. Oh, and it makes coffee. As part of the HMI (Human Media Interface) package, a multimedia system which allows the car to interact with the consumer in a number of ways, a small Espresso machine can be included in the purchase for 250 Euros.
This makes the 500L the first car in the world equipped with a coffee machine, one designed with the collaboration of renowned Italian coffee manufacturers Lavazza. Of course, the HMI provides numerous other services – primarily interactions with digital commodities like smartphones, radio, iPods and the like. But it is the coffee machine that inevitably steals the spotlight, and that will no doubt give us a reason to remember this car (though probably not, in itself, reason enough to buy it!).
Like any 500, the new L model could hardly be called austere. It is not a Piaggio Three-Wheeler or a Mercedes Benz Sprinter van, vehicles designed primarily for their functionality. At heart, Fiat's new model remains concerned with bringing the practical aspects of driving together with a sense of chic, of understated urban elegance. For the Fiat 500L is, first and foremost, a car for the city. Its engines, despite a deceptively leonine "roar," are not among the most powerful, and they struggle a little on long journeys along a highway. The car's most obvious comparison is with the Citroen C3 Picasso, which is also an urban car that attempts to bring together a classy look with comfortable, optimised spaces.
There are actually a number of competitors for this type of market (the Panda also comes to mind, which is related to the 500L in terms of the interior design). It's amusing to think that one of the selling points of Fiat's vehicle, compared to its rivals, may be the boast that this car actually does make coffee, as per the Italian dictum. What, then, if other manufacturers followed suit? Would we have a Renault Clio III which makes paté de foie gras? A Seat Ibiza that cleans shrimps and fries paella? The German companies are perhaps in a troublesome position, as for obvious reasons they cannot make a car with a beer faucet. If they would enter this particular battle, they would have to think creatively. All jokes aside, the 500L can at least be credited with that.