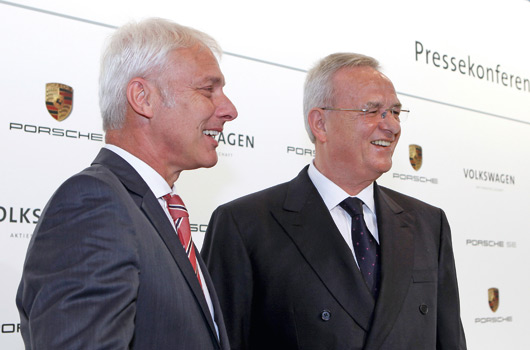 German car manufacturer Volkswagen announced today that it plans to buy the remaining 50,1% stakeholding in Porsche. The company first purchased 49,9 % stake in Porsche in 2009 when it was agreed that the two would fully merge by the end of 2011. Some legal disputes stood in the way of that, but both companies are now looking to complete the merger as soon as possible. The planned merger is set to decrease Volkswagen's operating costs and increase the company's profits, contributing to it becoming one of the biggest car manufacturers in the world.
"The accelerated integration will allow us to start implementing a joint strategy for Porsche's automotive business more quickly and to realize key joint projects more rapidly," said Hans Dieter Poetsch, chief financial officer of Volkswagen.
It was mainly tax issues or rather a very big tax bill for both companies that stood in the way of merger being completed last year. According to some reports, had Volkswagen purchased the remaining stake in Porsche before 2014, the two companies would have to pay more then 1bn Euro in taxes, making the merger not particularly attractive for either company. But, the two manufacturers seem to have found a way around in which to complete the merger and avoid paying the massive tax bill by classifying the merger as restructuring of the companies, rather then a takeover.
"It's a great deal for Volkswagen, both financially and in operative terms," said David Arnold, an analyst with Credit Suisse. Meanwhile, Volkswagen said in a statement that "the accelerated integration model that has now been agreed can be implemented on economically feasible terms".
Porsche had been in fact trying to takeover Volkswagen first and its attempt failed in 2009. The attempt nearly bankrupted the company, triggering lawsuits running to billions of Euros from investors.
In the reversal of roles, the two companies agreed on a deal in 2009 under which Volkswagen agreed to take over Porsche instead. Once this merger is fully finalised, it will be an end to one very dramatic takeover in the car manufacturing industry, and which will add yet another brand, together with Škoda, Audi, SEAT and others, fully owned by the Volkswagen Group. Together with another German manufacturer, Mercedes Benz, whose production line includes everything from trucks, vans, MPV, to small cars, sedans and super luxury vehicles, Volkswagen, with its diversified offer is set to dominate not only the German and European market, but global markets as well.