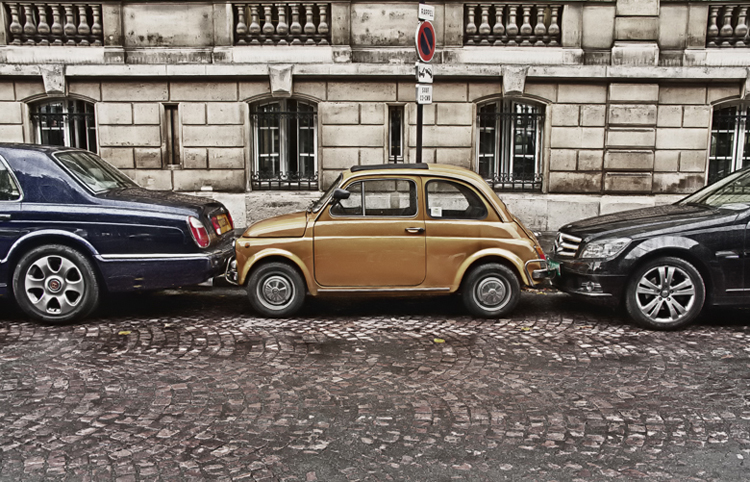 Parkino – 'Parks For You' is a new Italian parking-system. The manufacturer's English website describes the device as an 'automated parking device' to facilitate the parking of vehicles in narrow spaces –it uses a remote-controlled system which drags the car precisely into its designated space. The driver stands by – and is able to avoid having to scramble out of a tightly-parked car.
This invention, while unlikely to solve it, is symptomatic of the growing problem of car parking availability. In cities, car parking spaces are narrow and seem to be perpetually occupied. London's high congestion charges and excellent underground system in particular both try to encourage commuters to completely forgo the use of their own four wheels.
The sweaty intimacy of a rush hour tube is, however, not everybody's cup of tea, and Parkino is just one system which tries to enable drivers to keep using their cars despite increasing logistical difficulties.
Most electric cars and many hybrid models are being marketed as 'city cars', thus trying to occupy the niche for individual yet practical transport. There certainly is a lot to be said for electric cars in a city environment. London in particular is increasing the number of charging points available to drivers of electric cars, and the – generally speaking – smaller dimensions of electric cars make it much easier to find a suitable parking space. Reduced and even waved congestion charges for electric and particularly low-emissions vehicles are another bonus, and many manufacturers are increasingly targeting the 'green' market. The Mercedes new A-Class for example comprises three engine models which fall into category 5 of the European Emissions Standard, and four category six models,which qualify for significant reductions within the London congestion charge system.
Additionally, some manufacturers are trying to introduce electric bicycles to supplement their city car models. The idea is to enable drivers to leave their car in a convenient spot on the fringes of a congestion zone, and travel the less accessible miles of their way by bike.Two of BMW's iPedelec, designed as an addition to the BMW i3 (available from 2013), can be charged in the boot of the car while driving. Once fully charged, it has a range of around 24 miles. A similar model by Smart is already available, with a similar technology allowing the two bicycles to be charged whilst attached to docking stations in the boot of a Smart car.
There certainly is a market for negotiating a cheaper and more convenient way through inner city environments. With some fairly amusing projected solutions, the electric car still seems one of the most feasible.