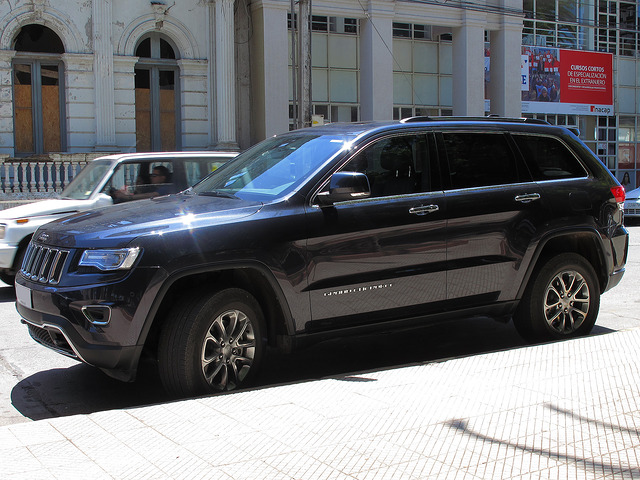 For many years, Jeep has been a main fixture in the off-road market. In fact, the company are so well known for their offerings in the sector that the brand name has become a generic term for SUVs. Don't be fooled, though. The Fiat Chrysler owned automobile division take their 4x4s seriously. The might just be their greatest offering yet.
With summer closing in, those in the market for a new vehicle will need something with more muscle. Winter is coming, and weather conditions are set to get worse. A cute convertible won't keep you warm, nor will it plough through the snow with much power. SUVs are known as a reliable vehicle for all weathers. Buying one now might even save you money, before the autumn brings in higher demand for sturdier autos.
It's a powerhouse not only suitable for off-roading but also great for regular driving. There's a lot to like about the new Grand Cherokee. Let's look at some closer details.
Value
Grand Cherokee's most basic model has a generous price tag for a vehicle of its stature. Its cheapest model doesn't feature four-wheel drive, so you may want to pay more for the privilege. In most regards, it beats out competitors such as the Ford Explorer Sport and Toyota Highlander when it comes to price.
It's in a decent price range for the average consumer, especially if you make use of financing options. You can find prices for the Grand Cherokee at Jeep dealerships, or check websites such as Thames Motor Group.
Jeeps usually offer models worth investing in, as materials are built-to-last. Another Jeep model, the Wrangler, is known for having the highest resale value, so it's fair to say the brand is known for durability. Basic warranty is three years, but Jeep's powertrain warranty covers you for five years and 100,000 miles.
Exterior
The Grand Cherokee embodies the kind of power you'd expect from a Jeep. It's a large SUV, almost 16 feet long and around 6ft 5 in terms of width. It stands 70 inches high and gets an impressive ground clearance of 10.8 inches.
The Laredo model comes with 18-inch polished aluminium alloys, but other models have alloys up to 20 inches. There's a choice of 11 different colours of metallic paint, with black looking the most refined. Other exterior features such as the platinum door sills and pronounced headlamps and tail lights.
Overall, the vehicle looks sturdy from the outside. All exterior materials are designed for durability rather than flashiness, and they do the job well.
Interior
Although features can differ from model to model, you can expect an impressive interior whichever way. The two front seats are comfortable and fully adjustable. Three back seats offer a good deal of passenger room, and there's also plenty of space in the boot. The brown leather adds a stylish touch.
The range of responsive controls allows for easy switching between driving modes and activating a range of features. An LCD screen behind the wheel gives you stats while driving. There's also a large touch-screen in the middle, which offers connectivity and navigation features.
Features you can activate include voice controls, cruise control, and seat-heating. It also includes the kind of safety features you'd expect from a vehicle at this price range. Inbuilt parking assistance can handle both parallel and perpendicular parking. There are also plenty of accident avoidance systems.
Driving
The vehicle looks and feels good, but the real joy of it all is the driving. There are different driving modes for auto, sport, snow, and more. The four-wheel drive models handle well on all terrains. Even if you're only planning to use it for city commutes, the steering feels quick and responsive. The air-suspension gives you greater comfort over hills and bumps.
It has an eight-speed automatic transmission and a range of engines. The basic Laredo model only has a 295 hp V-6 engine. The SRT is capable of handling a 6.4-liter Hemi engine, offering up a whopping 475 hp. Others include a 5.7-liter V-8 and 3.0-liter EcoDiesel engine. You can get a fuel economy of 18-25 mpg depending on which engine you use.
The strong engine lineup and driving modes make it a good year-round vehicle. You won't have problems in any weather conditions, and you can consistently rely on a smooth and comfortable ride.
Verdict
The 2016 Grand Cherokee is a vehicle well worth its price and suitable for many people. The multimedia features and passenger room make it safe for families. The smooth driving makes it an excellent vehicle for the everyday commuter. Its powerful off-road capabilities make it a fun ride for those who want to get more from their vehicle. The Jeep Grand Cherokee is the most awarded SUV of all time, so it's worth considering if you're looking for a large vehicle.