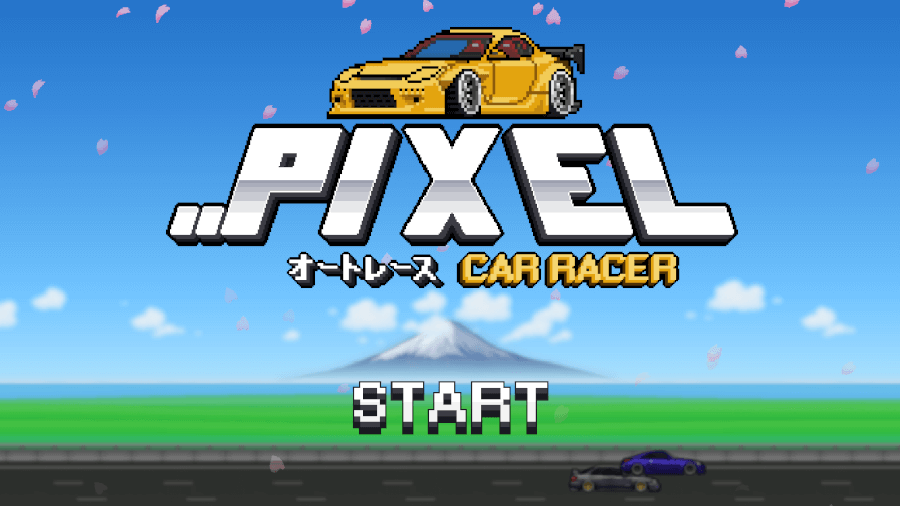 ** Update 13/2/2016** We're delighted to confirm the recent update of Pixel Car Racer resolved the painful IOS crashing issues we were having. We're also pleased to confirm that the recent updates gave a nod to the upcoming game modes. It's safe to say that a little bit of wee came out! (I've updated our review accordingly)
I like to think I've kinda got my finger on the pulse when it comes to gaming, especially when it involves four wheels and an engine.
Therefore it came as a surprise when my 9 year old started bugging me try this new "pixel" car game. Originally I had dismissed this as yet another Pixel Gun, Roblox or minecrafty type spin off trying to capitalise on the type of 8-bit graphics I grew up with.
Man, I was wrong.
So whats it about?
Before I discuss the reasons for my love affair with this little game, I need to point something out. This game is still in development, its not Beta but there's some holes. Some of the modes such as "Story Mode" and "Rivalry" are currently not available. This equates to about half the game modes but believe us when we say that really doesn't matter at all. What is available is frikken' amazing.
Game Modes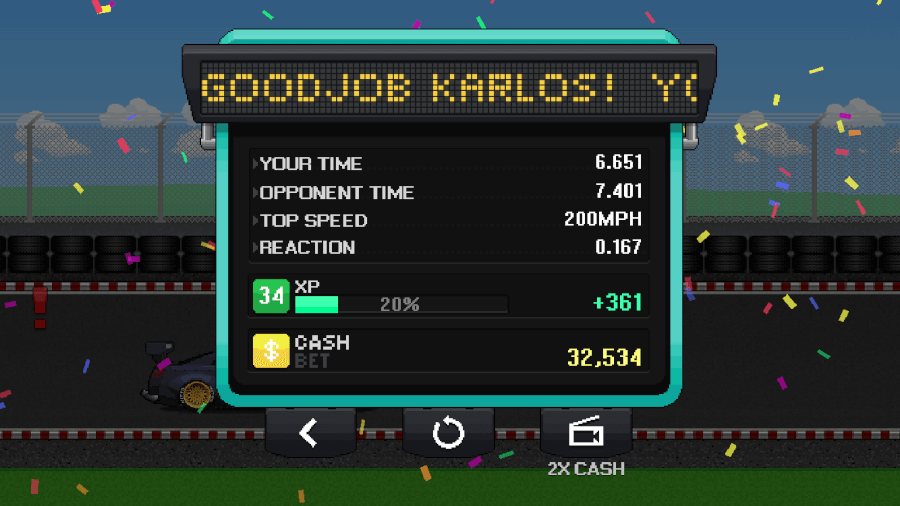 At present PCR racers offers both Drag and Street modes. These do pretty much what you'd expect.
The drag mode offers quarter, half and full mile races against a matched CPU / AI opponent. At higher levels it's a cake walk but with lower powered cars it can leave you scrabbling to upgrade at any cost (kidney anyone?!)
Street Races offer three modes. CTF (Capture the flag, Cruise and Touge). Capture the flag pits you against the AI in an attempt to keep the flag for as long as possible. Points / cash is awarded for the amount of time you hold the flag, this can be captured by ramming the vehicle with the flag from behind (oooohh errr missis!). Cruise mode is just simply that. Cruise along without a care in the world and the wind in your hair. Touge mode is a VS race against the AI, the aim is to put as much distance between you and your opponent as possible. Once you reach a certain distance in-front of your opponent you win! (or vise vera… looser)
Out of all the game modes it's the quarter mile races that keep me coming back for more. Trying to shave that extra tenth of a second has me coming back again and again… oh sh!t it's 1AM!
[ad]
Controls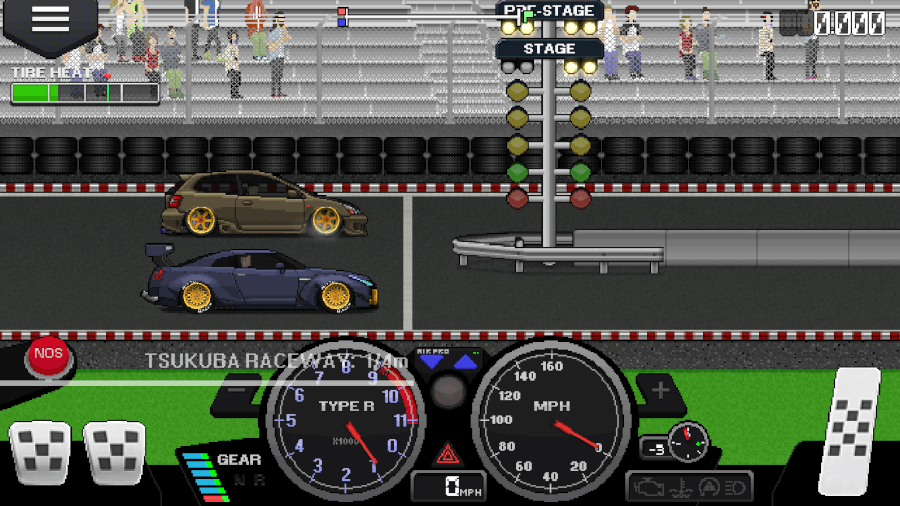 The controls in PCR can take a little getting used to but once you master them it proves to very, very rewarding. You have the option for the "pussy" mode (fully automatic), Manual and the ultra hard manual (with clutch). The middle ground offers the best experience. Giving you the ability to launch off the line with more aggression than my wife when I've left her some brown underwater eggs in the en-suit toilet. The expert mode is just too much for my little mind and fingers to handle, leaving my drag times slower as a result. If you've equipped your steed with NOS, you have the red "Go Baby Go" button together with height adjustment if you're riding on air.
Mastering the controls, launch timings and gear changes is a real delight. It's hard enough to keep you coming back for more but not too tricky to make your races and times wildly unpredictable.
Mods, paint settings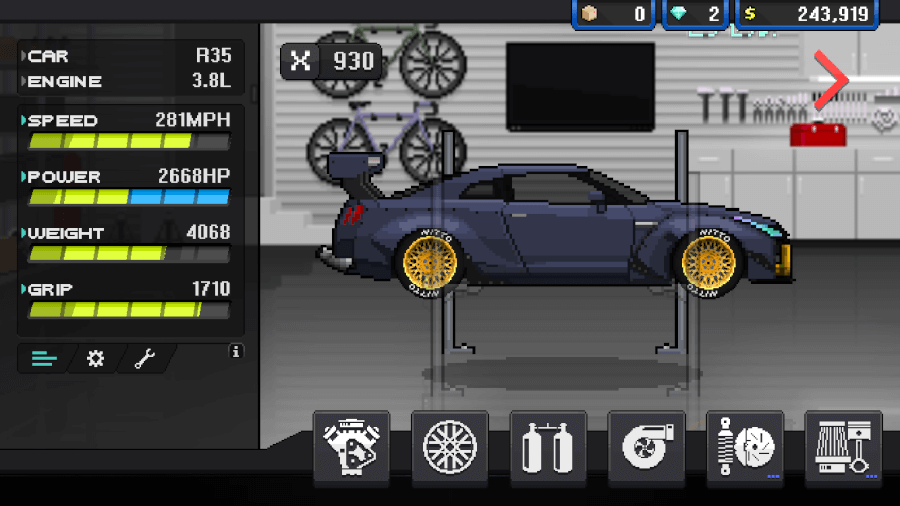 This part of the game is where it truly shines. You start as a mere n00b with a little pocket money in the dealership. You buy a car, you upgrade it, you race it, you tweak it. Rinse and repeat. All manner of modifications are available- from Turbos, suspension, NOS, wheels, graphics and paint. Each of these let you put your own little stamp on your rides, making them your own.
Saving for that new turbo or engine upgrade becomes all consuming. You hide away in the corner of the office, hammering away at the quarter mile races to earn much needed cash. Its like a drug… believe me.
There's just so much this game has to offer, for a gamer petrol head like me… its heaven.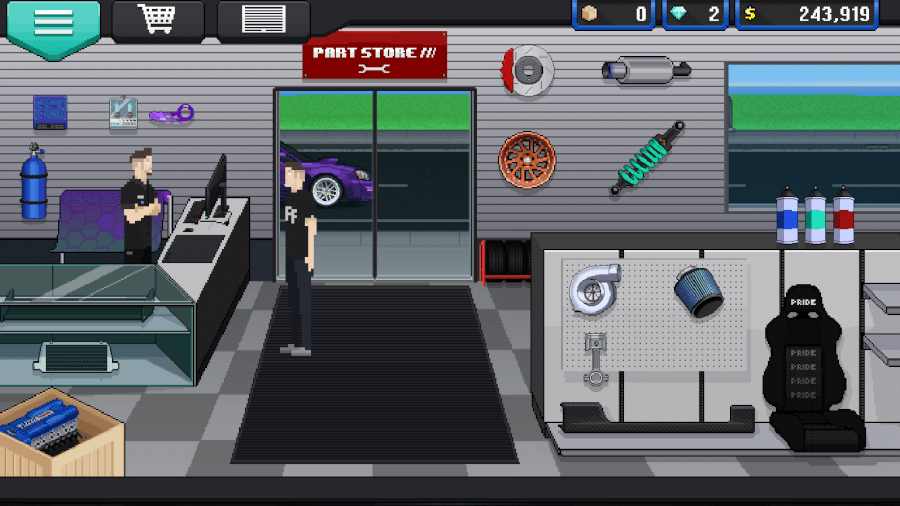 The "Musak"
The sounds and music don't disappoint. From that classic 8-bit sound track to the whistle of the turbo and blow off valve – the developers really have put their hearts in to this game.
Stability
This is my only bugbear with this game. It's unusable unless you're in flight mode. I'm assured this this will be fixed in the next update. I really do hope so as also suffers from the odd crash between races, leaving a little tear rolling down my cheek.
This only seems to be affecting us "Godly" iPhone users. The Android peasants don't seem to have any such issues… much to my sons delight.
** You'll be happy to know these stability issues have now been resolved! Yippe!
No f*cking paywall! 🙂
Games of this calibre after often besieged with either a horrific paywall or little "features" focused on making you parting with your hard earned cash. RCR does have it's share of ads and buying options but being a "free loader" certainly doesn't effect your progress in the game. We really hope this does not change.
The game does have it's share of ads between races, we'd suggest that you support the development of this cracking title and pay the 99p for their removal. This speeds up the time between races, enabling you to earn those bucks much faster.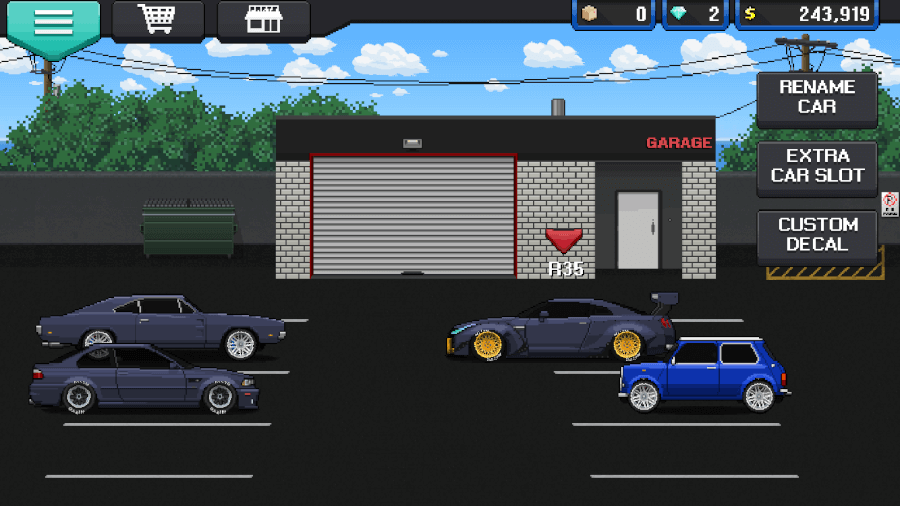 The Verdict!
Its not often that a mobile game game grabs me to such lengths that both my son and I are disusing our next upgrade plans and trading racing tips. Reading back at the release notes it obvious that STUDIOFURUKAWA are hard at work trying to add new features, car, mods and more importantly the missing modes.
We look forward to many many more hours with this game. My "number 2" breaks have never been so much fun!
We'll update our little review as the game develops.
We'd like to hear your thoughts on Pixel Car Racer, please leave a comment below!
Download it now. Search "Pixel Car" in either the Play or App store