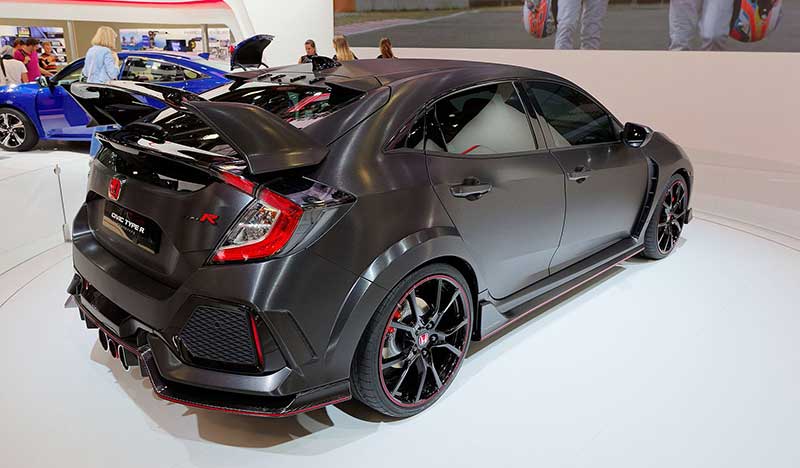 Honda has a great track record when it comes to the Civic. This is one of the best-selling production cars of all time. And, even dating back to some of the earliest models, you find examples of these cars everywhere. Honda has managed to paint a great image for themselves as one of the leaders of auto quality in their manufacturing. But, it really shows. And, the new Civic Type-R is no different. The Type-R badge is an added bonus on top of the other benefits; marking the car as one of their racing line-up. Enough of tooting Honda's horn, though; it's time to take a deeper look at this fierce new contender.
With a car like this, it's hard to decide which is the most exciting part; the drop-dead gorgeous looks or the throbbing engine beneath the bonnet. Let's start with the bit that purrs. The engine in the Type-R is a 316 bhp, 2.0l, turbocharged beast. Along with the beefy engine, the Type-R also has a host of performance options to change the way the car drives. In typical form, Honda has done more with this than just provide a suspension-hardening sport mode. Instead, they have created different tuning profiles for the engine and other parts of the car. This gives you the option to feel some real change in your Civic. And, with any luck, the Type-R should be able to hit 60 in less than 6 seconds. Now, that is fast.
[ad]
Do you like the idea of triple exhaust pipes? Do you like angry and fierce looking industrial design? And, most importantly, do you like a car that looks as if it were supposed to be tearing tarmac on the track instead of the road? If so, the Civic Type-R might just be for you. Some people will find the looks for the new Civic to be a little too much for their tastes. And, it's easy to see why. Honda has taken bold steps to make this car look unique and powerful. The result is a car that some people will hate. But, if you like this sort of design; you'll be in love with the Type-R. Even down to the indicators; it looks like a monster.
This post is a little bit of a tease. Unfortunately, the new Type-R isn't due for release for a couple of months. So, it's impossible to get one right now. And, when they are released, there is likely to be very high demand for them. This could make it hard to get one, too. With a healthy price-tag of over £30,000; you may want to think twice about paying for it, anyway. Instead, it could be better to borrow someone else's, when it comes out. Finding personal car leasing deals for cars as popular as this is easy. You just have to get out there and do some research.
Hopefully, this will inspire you to get out there and test drive the new Honda Civic Type-R. This car marks a very special piece of work for Honda. And, it's something they have obviously put a lot of love into. In fact, you'll probably love it, too.