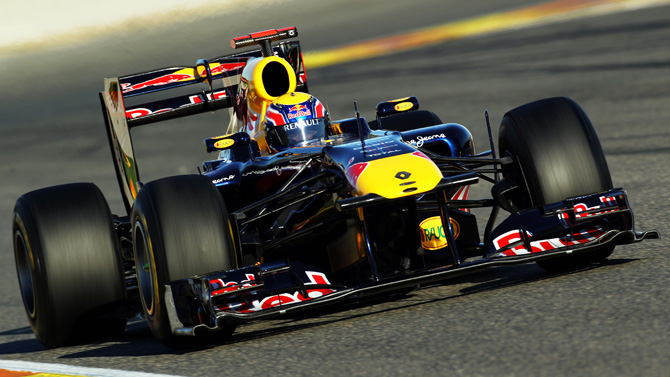 This article has been written by Mark Martin; a keen Motorsport and automotive industry enthusiast who currently works in the marketing department for MoneySupermarket
In terms of the fight for the championship, 2011 was not a classic year for Formula One. However the on-track action was probably the best that it has been for many years thanks to the introduction of the DRS overtaking aid and the new Pirelli tyres which have added another strategic element to the sport.
Vettel's domination also doesn't accurately reflect the strength in depth of the driving talent this season; with five World Champions and eleven race winning drivers all competing to be classed as the best of the best. But taking into account the performance differential between the cars, who is really deserving of this title?
10.Adrian Sutil
Season highlight: Stunning charge to 6th in season ending Brazilian Grand Prix with knowledge that his career was on the line.
Season lowlight: Being generally outpaced by rookie team-mate Di Resta in first half of season
The fact that Sutil looks likely to lose his seat at Force India for 2012 is more a reflection of the wealth of driving talent Force India has on its books than indicating any below par performances on Sutil's behalf.
Admittedly the first half of the season was somewhat patchy, but Sutil's form in the 2nd half was almost impeccable as he became the teams' top points' scorer. Indeed, the German seems to have thrived under the pressure of potentially losing his seat to produce some of the best performances of his career and seems to have tamed his once wild side. His drives in Germany and Brazil were particularly impressive, but he doesn't seem to have out-performed rookie team-mate Di Resta by enough to warrant a contract extension with Force India next year.
9. Sergio Perez
Season highlight: Brilliant drive to 7th in debut race in Australia prior to Sauber exclusion
Season lowlight: Embarrassing rookie error to collide with Sutil in China.
Perez wasn't a stand-out performer in the junior categories like Hamilton. This combined with his limited pre-season testing programme meant that expectations were low for the Mexican rookie, which perhaps made it easier for him to impress.
However, this shouldn't take away from the fact that Perez seemed to master the Pirelli tyres earlier than any of his rivals; producing a stunning drive to 7th at his debut race in Australia prior to Sauber's disqualification for an insignificant technical infringement. The Mexican also stood out on circuits or in conditions where driver skills are most tested. In particular, his performance over the Monaco weekend was superb prior to a heavy accident which took him up to nine weeks to recover from fully.
Ferrari has enough faith in his developing abilities to have signed him up to their young driver academy and offered him a test on their private facilities in the summer. Many insiders are tipping Perez as Massa's replacement at the team for 2013.
8. Michael Schumacher
Season highlight: Fastest man during the most challenge period of the wet Canadian Grand Prix.
Season lowlight: Normally between 0.5-1 second behind team-mate Rosberg in qualifying
While Perez benefitted from low expectations, Michael Schumacher has suffered from the opposite problem since his return to the sport last season. Three years away from competition and the ban on in-season testing has left the German legend a shadow of his former self.
Nevertheless, there were clear signs of progress in 2011 with Schumacher often outpacing his highly rated young team-mate Rosberg in the races; particularly in the second half of the year. This bodes well for 2012, but Schumacher must first overcome his inability to extract the maximum from his tyres in qualifying trim; an affliction that has often left him close to a second adrift of Rosberg over one-lap. Is this due to a reduced lack of feel for the car resulting from Schumacher's age or do the tyres simply not suit his driving style? This is a question which should be answered in 2012 once Schumacher has had the winter to analyse his technique and work on improvements.
7. Mark Webber
Season highlight: Brilliant move to pass Alonso through notorious Eau Rouge corner in Belgium
Season lowlight: Failing to match Vettel for pace 17 out of 19 times
Qualifying was also the bane of Webber's 2011 season; with the Australian being out-qualified by team-mate Vettel on 16 occasions over the course of the year. This left the Australian losing time by battling it out with the Ferrari's and McLaren's rather than pulling away from the chasing pack like the German.
This has resulted in critics claiming that Webber has lost his form. However, this ignores the fact that Webber set more fastest race laps than any other driver in 2011. Like with Schumacher, if Webber can manage to overcome his inability to extract pace from the Pirelli tyres in qualifying then he will be far more competitive in 2012.
6. Heikki Kovalainen
Season highlight: Punching above his weight to finish above midfield runners in China, Singapore, Korea, India and Brazil
Season lowlight: Meaningless crash in Spain
It might seem to be a confusing move to place a man who hasn't finished higher than 13th in a race for the past two years to be classed as being the 6th best driver of the season. However, this can be justified by comparing him to his race winning team-mate Jarno Trulli who is a renowned qualifying master. Kovalainen managed to out-qualify him 16-2 and was the only one of the two who proved to be a consistent headache for the midfield teams; putting his Team Lotus car into positions that it had absolutely no right to be in.
Beating both Sauber's in a straight fight in Korea and Renault's Vitaly Petrov in Singapore were particularly highlights, and makes one question why Kovalainen failed to shine alongside Hamilton at McLaren. The Finnish racer is putting this down to confidence; claiming that the atmosphere within his new team is allowing him to extract the best from himself as he now has more faith in his own abilities.
Despite offers from bigger teams, Kovalainen looks set to stay with Team Lotus (soon to renamed Team Caterham) for 2012; positioning himself as the man who this very promising team is developing themselves around. Expect them to make huge strides and take their first points with Kovalainen next season. Let's just hope Kovalainen doesn't turn out to be another Giancarlo Fisichella; a man who shone in uncompetitive machinery only to lose his head when in a front running team.
5. Nico Rosberg
Season highlight: Best of the rest behind the Red Bull's in Turkish qualifying session
Season lowlight: Being inexplicably off the pace of Schumacher all weekend in Malaysia.
Rosberg became the first man ever to beat Schumacher over the course of a season in the same machinery in 2010; revitalising his reputation and establishing himself as Mercedes team leader.
Much was expected of him in 2011, particularly after the promising final pre-season test. However, Rosberg himself admits being disappointed with the pace of his machinery upon arriving for the first race and he completed the season 50 points down on his 2010 points total without even a single podium to his name. He still outperformed Schumacher, but not quite as convincingly as the year before.
This has raised many question marks about Rosberg's ultimately potential; but Mercedes has shown sufficient trust in his abilities to sign him up until the end of 2014 in a big money deal. Let's hope that he can finally get himself onto the winners step in 2012.
4. Lewis Hamilton
Season highlight: Scintillating victory in Germany; battling wheel to wheel with Webber and passing Alonso around the outside.
Season lowlight: The disaster that was Monaco
Say what you like about Lewis Hamilton, but no one can dispute the fact that he does bring a lot of drama to the sport; both off the track and on it. Just like Nigel Mansell or Ayrton Senna in days gone by, Hamilton is a constant draw of the television cameras attention regardless of whether he is battling for the lead or for 10th place.
However, this year it was largely for all the wrong reasons, with the British driver becoming involved in numerous clumsy accidents with other drivers; colliding with Massa five times alone. Nevertheless, these incidents were as ever interspersed with some remarkable performances. His victories in China and Germany were particularly impressive with overtaking moves on Webber, Alonso and Vettel while fighting for the lead showing that Hamilton had lost none of his ability.
He ultimately finished the season lower down the points table than his team-mate for the first time in his career. Hamilton laid blame for this on being in a "bad place" mentally, with personal problems affecting his on-track form. He claims that his victory in the penultimate race in Abu Dhabi is proof that he is back on the right track. Let's hope he is right, because if a man of Hamilton's talent were to leave the sport with only one title to his name it would be a tragedy.
3. Fernando Alonso
Season highlight: Brilliantly in control victory at wet Silverstone
Season lowlight: Poor showing all weekend in China
Fernando Alonso has every right to feel upset about his career being at an apparent standstill. At the end of 2006, he headed to McLaren as the sports youngest ever double world champion; and with the retirement of Michael Schumacher he became recognised as the sports top performer. However, the subsequent emergence of Hamilton and Vettel, the fall-out at McLaren, some below par Renault's and a poor strategy call in the final race of 2010 have resulted in Alonso failing to add to his championship tally.
This is no reflection on the Spaniard's abilities, and in many ways he performed better than ever before in 2011. Managing to win a race in the F60 Italia and finishing 4th in the championship race overall was no mean achievement. With a more 'adventurous' attitude being employed in the Ferrari design department and with the wind tunnel correlation issues which afflicted their 2011 car having been amended, expect to see Alonso back where he belongs challenging for the title once more in 2012.
2. Jenson Button
Season highlight: Stunning drive from last to 1st in just 17 laps in Canada
Season lowlight: Colliding with Hamilton on the way to that victory
Button might not have won the title in 2011, but it was without doubt his best overall season in the sport; better even than his title winning year in 2009. He seems to have accepted that he doesn't have the raw pace of team-mate Hamilton and has therefore been exploiting his tactical nous and unmatchable tyre management techniques to get the best result possible from each weekend. This is the kind of mature attitude which can only come with age and experience.
The British driver is also establishing himself as the new rain-master of F1; taking stunning victories in the wet Canadian and Hungarian grand prix's; with the Montreal race being perhaps one of the greatest victories of all time as Button tore through the field from last to 1st in the final 17 laps following collisions with both Alonso and Hamilton to take a famous victory.
Button has already done the unthinkable by displacing Hamilton as McLaren team leader. With this new mature attitude and the promise of a more competitive 2012 McLaren, it would be no longer be a surprise to see him claim a second title.
1. Sebastian Vettel
Season highlight: Any one of those 11 victories and 15 pole positions
Season lowlight: under par performance on home soil in Germany
There simply could be no other victor. 15 pole positions and 11 race wins from 19 starts marked one of the most successful campaigns of all time and established Vettel as the youngest ever double world champion. At the age of just 24, Vettel seems to have inexplicably managed to combine Ayrton Senna's qualifying abilities with Michael Schumacher's race management techniques to become a devastatingly dominant force. Baring a catastrophe in the Red Bull design department, there is absolutely no reason why Vettel won't become the youngest ever triple champion in 2012.
The only aspect of Vettel's abilities which have been in question in the past has been his overtaking skills and ability to fight his way up the field from the back like Button, Hamilton or Alonso. Despite spending the majority of the season up front, the German also seems to have addressed these criticisms in 2011; employing some remarkable overtaking manoeuvres over the course of the season when it has been required. His move on Alonso for the lead in Monza for instance was incredibly brave; as he kept his foot planted to the floor despite the Spaniard forcing hom to put one wheel on the grass at over 200 mph.
Sebastian Vettel's remarkably dominant form in what is one of the sports most competitive eras surely marks him out as one of the greatest racing drivers of all time.