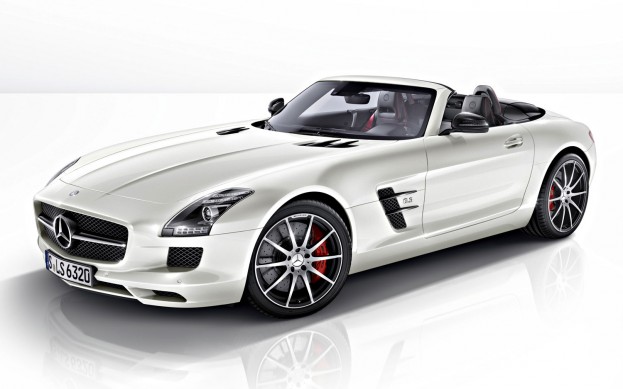 Daimler plans to introduce the next version of the SLS AMG series in November. Available in convertible and coupe versions, the model represents everything AMG and Mercedes stand for: hardcore power, better transmission and the best suspension for another-worldly driving experience. This, Daimler says, is to make the car worthy of the "GT" tag that is reserved for racing cars. When it does hit the showrooms, the new SLS AMG GT will replace all current versions of SLS AMG, making it the flag bearer of its prestigious brand.
The interior of Mercedes convertibles is what catches our attention. Most of the upgrades done inside are over the seats, the floor and the center console. Red specks have been added to make them more stylish. Even the steering wheel got a remodel too, featuring red stitching. And to stick to the Mercedes Benz tradition, one can opt for many more add-ons, like a high power audio system, ceramic brakes and a host of unique wheel styles.
Besides the interior design, nothing much has changed. The engine is a classic AMG 6.2 liter V8 engine that gives out 583PS. That's 20PS more than the current SLS AMG which gives 563PS. The torque is similar to its predecessors, 650Nm. To be able to handle the extra work, AMG has tweaked the 7 speed dual clutch gearbox to give faster results when driving in manual mode. This seems to have paid off as the car takes just 3.6 seconds to get to 62 mph.
Thanks to their tireless work and advancements in gear technology, AMG engineers were able to greatly reduce the shift time in the SLS AMG GT. It is quicker and smoother, thus giving a natural, swift gear change procedure every time you switch gears.
It's not just the straight drive performance that AMG has enhanced on the Mercedes-Benz SLS AMG GT convertible and coupe versions. The suspension has been upgraded to AMG's Adaptive Performance Suspension that allows a more stable driving experience. The dampers are now electronically adjusted to give a much more aggressive feel.
Perhaps the most noticeable change for this new AMG over the previous models is the new driving mode "Sport", that Mercedes-Benz claims will accelerate the car quicker than the previous SLS AMG. To engage the "Sport" mode, one has to access the AMG Drive Unit control module in the center console.
For UK customers, all coupe and Mercedes convertible cars versions will start selling in November.