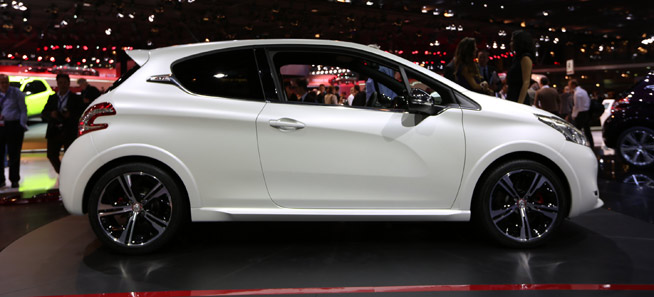 The Peugeot 205 GTi has always been one of my favorite old school hot hatches. It's revy little 1.9 engine and sorted handling made for an epic combination that could see off most competition when pointed at a twisty B road.
Things have moved on since the 90's and Peugeot are looking to revitalise the GTi brand with the new 208. This new model features a lower displacement engine than its grandfather but with the addition of a turbo charger to give the 1600cc engine a little "boost" in the right direction. With all that power on tap, it promises to get to 60 mph in less than 7 seconds and while emitting just 145 grams of CO2 per km.
The new generation GTi will also feature a widened track and an array of suspension upgrades and tweaks. It will also sport 17inch alloys and larger brakes to make sure it stops as well as it goes.
The 208 GTi dynamics manager, Marie Beaumont said: "The 208 was an excellent base for developing a sports hatchback. We have worked with particular attention on the steering response, the chassis dynamics and the rigidity of the suspension. The 208 GTi successfully combines performance, safety and driving pleasure."
Judging from the press and fan fair surrounding the new Peugeot 208 GTi we hope that this latest incarnation of the marque lives up to the GTi badge. Previous offerings of hatched GTi's since the iconic classic have been somewhat lacking in my eyes.
No details on pricing from Peugeot yet but expect it to be around the same money as the Clio RS and Mini Cooper. Deliveries should start in the spring of 2013.