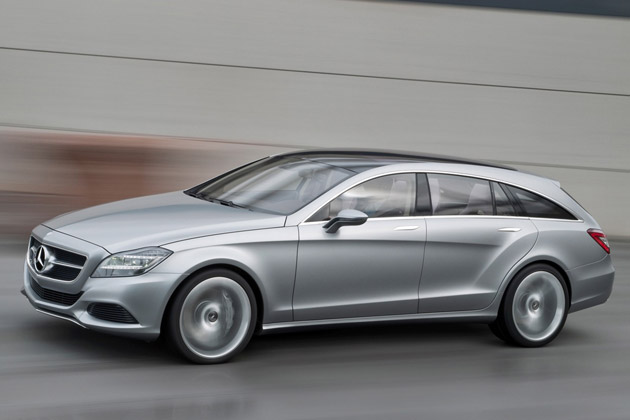 A few car manufacturers have so far explored the concept of caravan, sports car and somewhat enlarged sedan – all in one. Mercedes Benz too tapped into this growing market and delivered a concept of "coupe with four doors", which has now got its slightly bigger version.
Unveiled by Mercedes as primarily a sports car, the new CLS Shooting Brake offers a great deal of space too, for as many as five passengers, and a trunk big enough for the entire family, making it a great family sports car and almost unique in this category.  Perhaps not to everybody's liking; some have already characterised it as an unattractive looking station wagon; it will certainly attract a lot of attention from car enthusiasts, and those who want to have a sports car, but are also in need of precious indoors space.
This newest edition to Mercedes estate line has all designer characteristics that one would expect from the German manufacturer – similar to the Shooting Brake Mercedes unveiled n 2010 – including LED headlights, sloping roofline and the spoiler on the tailgate. The interior is also similar to its previous model with leather seats, wood detailing and metal embellishments, and a trunk volume of 590 – 1550 litres.  If you fancy something more even more classy, you can have finer finishes with cherry-wood flooring in the trunk and fine porcelain accents in the passenger area.
CLS Shooting Brake will be offered in the European markets across four engines; two petrol and two diesel engines. In terms of diesel engines, the offer includes:
CLS 250 CDI Blue EFFICIENCY powered by 2.1-liter four-cylinder engine delivers 201 hp and achieves 0-65 mph in as little as 7.8 seconds with a maximum speed of 146 mph.
Mercedes CLS 350 CDI Blue EFFICIENCY uses a 3.0-liter V6 engine develops 261 hp which allows the acceleration of up to 63 mph in 6.6 seconds and a top speed of 155 mph.
And as far as petrol engines are concerned, there is a choice between the following two:
CLS 350 Blue EFFICIENCY has a 3.5-liter V6 engine with 302 hp and acceleration from 0-62 mph in 6.7 seconds and a top speed of 146 mph.
CLS 500 Blue EFFICIENCY with a 4.6-liter twin-turbocharged V8 engine that delivers 402 hp, enough to accelerate from 0-62 mph in 5.3 seconds and a top speed of 155 mph.
So far, the manufacturer has only announced the car to go on sale in Europe in November 2012, but it is very likely that it will make its way to other markets soon. No prices have been announced yet either, but it's likely that this will be announced at the upcoming Paris Motor Show in September.
So, if you are in the market for something unusual, from used Mercedes to the newest Shooting Break, the German manufacturer aims to cover all the categories and tastes.