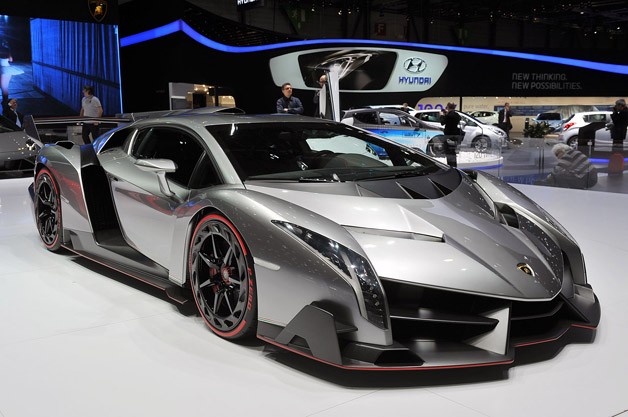 Geneva has been filled to the brim with tatty "eco" this and "fuel saving" that from manufactures all keen to jump on the green bandwagon and save the planet in the process. Lamborghini has kicked dust in the face of the eco nerds and Hypermilers by unveiling its most powerful and fastest production car to date, the Lamborghini Veneno.
The extreme styling of the Veneno is something to behold. The body is made entirely from carbon fibre with wings and vents a plently which would please even Bruce Wayne himself. Of course these radical features aren't just to sell more bedroom wall posters, the vents and wings are vital for keeping the raging bull firmly planted on the tarmac and sufficiently cooled.
At the heart of the Veneno features its mechanical master piece, a 6.5-Liter V-12 750BHP power plant which can propel the exotic bull to 60 in 2.8 seconds and on to a top speed of 221MPH.
So what's the price for this uber exclusive hyper car? You might want to raid the sofa as you'll need a cool $3.4 million dollars to pick up one of the three examples that have been made.
We're keen to see the Lamborghini Veneno in action so check back soon for the videos that should drop soon.
Read more about in the Lamborghini Veneno in the offical press release below.